An amplifier is typically designed to make a solid-body electric guitar sound louder.
As the name clearly suggests, amplifiers help boost a weak sound's signal.
When it comes to amplifying the sound from an acoustic guitar, things are bound to get a tad complicated.
When plugged in, the amplified sound from an electric guitar is designed to sound entirely different from its source.
When amplifying the sound from an acoustic guitar, you will most likely prefer to maintain its natural tone and increase its level of loudness.
Best Acoustic Guitar Amps for the Money
Acoustic vs Electric Guitar Amps
If ever you find yourself in a unique situation whereby you need to get the most out of your acoustic guitar, you will probably need to incorporate an amplifier into the mix.
Surely you can simply plug in your acoustic guitar into your Stratocaster amp, right?
There is no harm in this, considering notable artists have done the same for their acoustic guitars with no problem at all.
But if you wish to get that extra oomph from your acoustic guitar, then an electric guitar amplifier can, in no way, guarantee you that much-needed musical satisfaction.
Why is this?
When you play acoustic, you may probably want to amplify the guitar's tone, which is majorly sourced from the methodically-picked tonewoods used in building the instrument.
Like most instruments, acoustic guitars benefit a great deal from distortion-free sound and full-frequency reproduction.
Solid-bodied electric guitars, on the other hand, sound better to a majority of individuals through a tube amplifier complete with a simple, traditional speaker with a paper cone.
This is mainly due to their precise harmonic distortion and audible accentuation on mid-range frequencies.
Like most PA systems and home stereos, most acoustic amps feature tweeter and woofer arrangements that are designed specifically for high-frequency and low-frequency, respectively.
The main factor that puts acoustic amplifiers in a league of their own are the bonus specs that specifically cater to the needs of an acoustic player, such as extra inputs for onboard effects, mobile devices, and microphones.
These and more features will ensure that you receive quality representation of your acoustic guitar's natural sound.
The best acoustic amplifiers have a one-of-a-kind ability to reproduce whatever sound you play on your acoustic guitar, low or high, with no form of distortion whatsoever.
With that said, it's important that you choose an acoustic guitar amplifier that suits your needs, other than wasting your money purchasing amps that other people are into.
This point leads us to the age-old question of what to look for in a good quality amplifier for your acoustic guitar.
What Should You Look for When Choosing an Acoustic Guitar Amplifier?
This will, of course, depend on a couple of things including your budget, which whistles and bells you need/don't need and what you intend on using it for.
The following are common features you can't afford to ignore if you're thinking of purchasing an acoustic guitar amp:
1. Built-in effects
It is essential for you to put into consideration what effects are going to be an integral part of your performance.
If you're a solo performer, the best way to lay down a track and add in your vocals is using the built-in loop function.
If you're looking for a more robust and richer sound, try out the built-in reverb.
Additional effects include chorus, delay, and flange. Everybody has a different sound preference and that's okay.
2. Feedback Control
As the signal transmitted from an acoustic guitar generally comes from a microphone or transducer pickup, the feedback possibilities are relatively high.
To lower the chances of feedback, there is a feedback suppression function that is incorporated in all acoustic guitar amplifiers.
3. Microphone and Guitar Dual Channels
Without a doubt, this is one of the most significant features you can look for in an acoustic guitar amplifier.
Normally, this will include an XLR input, or maybe a phantom power option.
The XLR input will turn your acoustic guitar amplifier into a self-contained, smooth-sounding, PA system.
This unique feature will enable you to perform at gigs with zero chances of a full-blown PA system.
Why Should You Buy An Acoustic Guitar Amplifier?
Not sure if one of these amps is really for you?
Well, if you're on the fence about adding one of these amplifiers to your gear collection, then check out the video below.
Other Things to Consider

Type of Amplifier
Acoustic guitars are classified into two: solid-state amplifier and tube amplifier.
Solid-state amplifiers are the most preferred of the two mainly because of their reliability and crisp clean representation of whatever signal that is channeled through it.
Tube amps, on the other hand, basically provide an 'organic', fat, and warm tone.
They have a minimal level of maintenance, considering the tubes will have to be replaced over a long period of time.
Stereo vs. Mono
If you wish to run your acoustic guitar signal through stereo effects, a stereo amplifier would work out best for you.
If not, just stick with mono.
Power
You'll require 20-30 watts of power if you're intending on practicing on a daily basis with a full band or solo in-house practice.
If you are going to be serenading larger venues, set your eyes on an amp that pushes about 50-60 watts.
If you're booked to perform with a full band for a considerable crowd over the weekend, go for a 100-watt amplifier.
Editor Picks: Top Acoustic Guitar Amplifiers You Should Try Out
Prior to purchasing any of this equipment, you should already have a clear description of what you're looking for in an acoustic guitar amp.
Fishman

Loudbox

Mini Acoustic Instrument Amplifier (#1 top pick)
You may or may not have heard of the brand Fishman before. They are the genius company behind a host of electro-acoustic guitars.
Now, they have upped their game and delved into the production of acoustic amps as well.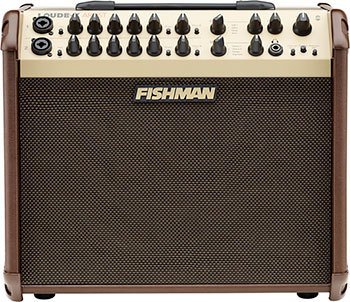 The Fishman Loudbox Acoustic Amplifier has to be the brand's most lightweight (19.7 lbs) and portable amp so far.
This amplifier delivers when it comes to tonal quality, which is typical of all Fishman products.
Here are a couple of other cool features this amp has to offer:
Features
The

Loudbox

Amplifier features Echo/Slap Echo,

Flanger

, Chorus, and Delay effects
It features double adaptable channels that can function properly with a mic input or music instrument
It offers a Foot Switch input for Chorus, input channels, Slap Echo effects, and

Flanger

remote muting
Its input channels are complete with feedback controls and 3-band equalizers
It packs a whopping 120 watts of bi-amplified, ultra-clean acoustic power
Pros
Incredibly lightweight and portable.
The sound it produces is of high-quality, even when the gain level is high.
Offers functional and highly reliable features.
Cons
The cabinet material used is soft, making it vulnerable to tear and scratches.
Its high price makes it impossible for some to afford it.
It will take some time for you to get a hang of its settings.
Fender Acoustic SFX Guitar Amplifier
An all-around guitar amp. The Fender Acoustic Amplifier is considered a reliable tool in amplifying acoustic sounds as well as microphone inputs.
It is a favorite when it comes to a wide range of musical performances such as stage performances, studio recording, and home practice.
Your next guitar adventure would be incomplete without a Fender SFX Guitar Amplifier.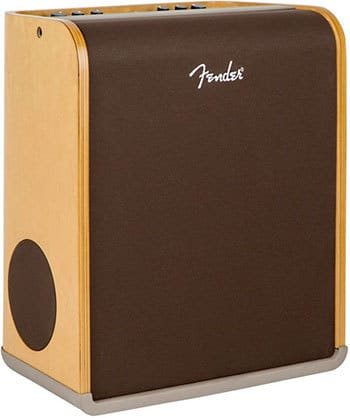 Features
It has a leveled XLR output jack that comes with an output line and ground lift level control that makes connecting to a stage p.a or recording relatively simple
It has an integrated handle that is ergonomically designed and spans across the lightweight (

25 lbs

) Fender amplifier. Its cabinet has an elegant external finishing that enhances projection and resonance
Pros
It has Full Range 'Voicing', SFX technology and Digital Reverb that offer exceptional full tones that can be projected across a broad spectrum.
It features easy-to-navigate controls. For each amplifier's channels, there is a single volume knob, reverb/effects-level control and, a 3-band EQ.
Its overall stylish design is pretty eye-catching.
Can be transported from place to place with little effort.
Excellent power output.
Cons
Yamaha

THR5

Mini Acoustic Guitar Amplifier
Everything about the THR5 combo is designed to deliver in terms of feeling and sound, both on and off stage.
Its development was started from the ground up by a crew of guitarists all in pursuit of the ultimate quality tone.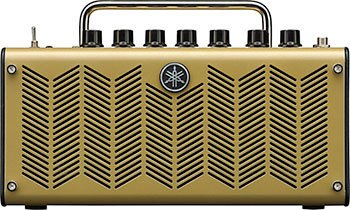 It is specifically designed for silent guitarists who are keen on honing their skills off-stage first before breaking out into the main scene later on.
Features
A number of its effects feature Virtual Circuitry Modeling (VCM) processors, which convey quality and realism in every tone
It has a user memory function that enables you to save a maximum of five amp settings in all switch and controller settings for swift recall
The built-in chromatic tuner features fine-tuning as well as an easy-to-read and accurate display.
It features a tap tempo function that gives you the ability to swiftly set delay time
It has a distinctive and resonant Tremolo and

Phaser

effects. The

Flanger

and Chorus sweep with sufficient depth, while the Delays and Reverb are simply crisp clean
Pros
High-quality natural dynamics and warmth of previous tube amps.
It's fully loaded with

updateable

features through its USB connectivity.
Fits perfectly in any kind of setting i.e workplace, domestic etc.
Can alternatively be powered by AA batteries, which offers approximately six hours of nonstop play.
Affordable.
Cons
Comes separately with individual volume keys.
Irritating buzzing once the acoustic guitar is plugged in.
Roland AC-60 Stereo Acoustic Amplifier
The Roland AC-60 is an innovatory compact stereo acoustic amp that makes use of trailblazing digital signal processing so as to deliver crisp clean sound accompanied by a multiband/stereo chorus.
With the following features, this amp proves that it is worthy of a spot among some of the best acoustic amplifiers in today's competitive market.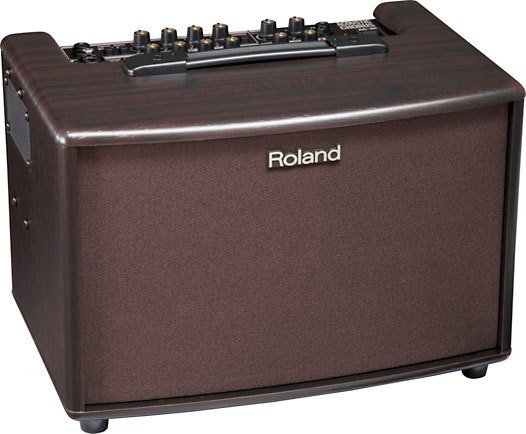 Features
Powerful dual 30W 6.5-inch stereo speakers that offer superb and natural tone projection
It has a 2-channel design that features a mic/line input with phantom power plus a guitar input
It features an onboard DSP that delivers a recently developed wide chorus,

multiband

/stereo chorus and reverb/delay complete with a

footswitch

control
Features a built-in Auto Anti-Feedback controls. This will give room for maximum volume with zero feedback
Pros
It is great for on-stage performing and off-stage practicing.
Its design is less-complicated and attractively solid.
Comes with a variety of impressive sound effects such as delay, reverb etc.
Cons
Hisses quite often, which is typical of most Roland devices.
On vocals, you can only select reverb from the wide array of sound effects, which is, to say the least, pretty substandard.
Marshall

AS50D

Acoustic Guitar Amplifier
The Marshall AS50D is a very popular and all-around 2-channel and 50-watt amp that serves as a mini-PA system and an acoustic guitar amplifier.
If you need to play and sing simultaneously in smaller venues, this is the amp for you.
The XLR mic input is equipped with phantom power, thus making it possible to use both live condenser microphones along with dynamic mics.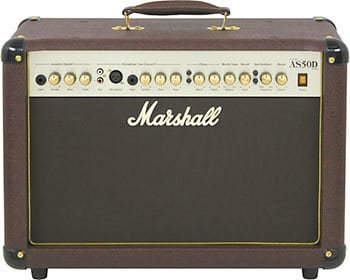 Features
The Marshall

AS50D

has the unique ability to deliver a wide range of frequencies. This is made possible by the perfect blend of a high-fidelity polymer dome tweeter
It has two regular inputs, one for each channel plus an XLR input for one microphone on channel two
Features a built-in reverb and chorus
It has an optional effects loop, which shares a similar control to the reverb and

footswitch

It features anti-feedback controls which simplify the use of acoustic instruments through the use of a frequency sweep dial
Pros
Incredibly versatile and can be recommended for solo gigs.
Works perfectly in small-medium sized venues.
Great chorus and reverb effects.
Cons
The knobs offer poor control quality (some might even fall off).
It lacks a 1/8" input for iOS and Android phones.
Fender

Acoustasonic

40 Acoustic Guitar Amplifier
When it comes to the manufacture of quality acoustic guitar amplifiers, Fender means business.
The Fender Acoustasonic 40 could indeed be a very reliable device in amplifying microphone inputs and acoustic guitars.
It is a quick run-to amp when it comes to public address applications as well as musical performance.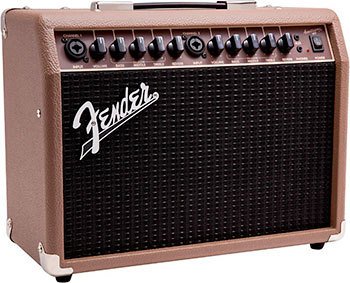 Features
For extra clarity, the Fender

Acoustasonic

40 Acoustic Guitar is embodied with a

Whizzer-coned

6" speaker
It has a strategically placed built-in chorus effect that is designed for additional depth and shimmer
It features a beneficial front-panel with dual inputs for instrument and microphone
As the name suggests, it runs on approximately 40 Watts of power, making it a reliable power-efficient amp
When combined with a PA system, the Fender

Acoustasonic

40 can alternatively be used as an onstage monitor.
Pros
It produces an astonishingly big sound for an amp of its size.
It is very affordable.
Energy-efficient.
Light-weight (16.2 lbs) and very handy.
Simplified control system.
Cons
Though it is loud, it's not as loud as it needs to be for huge performances.
The bass is not powerful enough as compared to other amps.
Behringer

Ultracoustic

AT108

Acoustic Combo Amp
This is one of those amps that incorporates character and vintage tone to its rich and clean sound.
It's not the best option on the market, but it certainly gets our pick as the best cheap acoustic guitar amp on the market right now.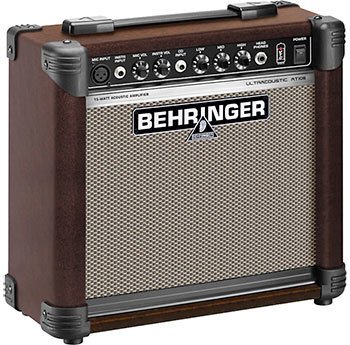 Features
The 8-inch amp utilizes a proprietary Virtual Tube Circuitry (VTC)
Featuring a mic input as well as an instrument input, the

Behringer

Ultracoustic

AT108

acoustic amplifier has an exemplary performance as a compact PA system
It has an amazing ultra-musical 3-band equalizer that produces accurate and distinctive tone-shaping ability
If you wish to play along to your favorite songs, take advantage of the fully functional CD input. It also has a headphone input when you need to rehearse privately
Its exceptional rugged construction and state-of-the-art components ensure the device's long life
Pros
Offers exemplary tone-shaping capabilities.
Built to last long due to its external material (durable vinyl and high-grade wood).
It is very affordable.
Cons
The

Behringer

AT108

amp lacks volume control for the line input. Additionally, the volume is not loud enough for large venues.
Conclusion
When it comes to musical instruments (or music in general), not everyone shares the same taste.
The larger the crowd you're performing for, the more the need to put all your thoughts and musical skills to determine which acoustic guitar amp is the right fit for you.
Additionally, it's extremely important to point out that you should be the one to choose your own instrument.