Selecting a pickup suitable to your acoustic guitar is just as important as selecting a great guitar.
High-end microphones and expensive studio equipment is required in the studio when capturing accurate acoustic guitar sound, so in a live environment, it may seem hard trying to recreate the acoustic guitar sound of studio quality.
Pickups today are inbuilt for acoustic guitars and factoring one into any guitar is a wise move.
The type of pickup selected will depend on a budget of the acoustic guitar player and their unique situations or styles.
However, it is recommended not to go too cheap for an acoustic guitar pickup as you may get poor tone, hums, and buzzes. Keep reading for our suggestions.
Best Acoustic Guitar Pickups for the Money
How does a pickup work?
Pickups function as transducers. Their job is to transform one type of energy into another.
All types of pickups convert the sound vibrations into electrical energy. The electrical energy is then passed to a PA system or preamplifier via a direct box.
Each guitar pickup differs from the next according to how accurately they receive the sound vibrations and how accurate their conversion is.
Different pickups have different designs which offer different responses to sound vibrations.
Understanding them will help you understand which pickup is suitable for your style.
Things to consider before buying a pickup for your acoustic guitar
Feedback and Acoustic Guitar Pickups
Anything from an ear-piercing squeak to a very low rumble can be considered as "feedback."
It is from the formation of an endless loop when the guitar picks up the signal coming out of a P.A. system from a pickup again accidentally.
A "sound hole cover" or "feedback buster" can be used to reduce acoustic guitar feedback.
Generally, all types of acoustic guitar pickups are feedback prone, but the sensitivity varies depending on the pickup type.
The sensitivity is correlated with how much a pickup "hears."
A miniature built-in microphone "hears" better and will, therefore, be more sensitive than a piezo to feedback.
The likelihood of feedback increases with the increase in frequencies "heard," so feedback will likely be caused by pickups that can reproduce an acoustic tone more accurately.
Amplifying Nylon String Guitars
Players who prefer the nylon feel/response instead of steel and players who want a natural tone like classical /flamenco musicians use nylon string guitars.
In-guitar microphone works best if you are after a natural tone as will a pickup and microphone combo.
A piezo or a transducer will be good enough if you aren't picky on the tone.
You'll get a more natural sound with transducer pickups, but their prices are on the higher side. You can still get a good tone using the cheaper piezo pickups, but with a less natural tone.
A soundhole pickup and nylon string guitar is the only combination that wouldn't work.
Without magnetism being in the picture for nylon string instruments, the treble strings produce no output rendering the pickup useless.
Active vs. Passive
The terms "active" and "passive" are used a lot when describing an acoustic guitar at stores, schools or just among friends and professionals.
They both differ from each other by how they boost their signals.
Active pickups are externally powered to boost the signal using batteries in most cases. Passive pickups are not externally powered.
Active pickups are suitable for connecting to any acoustic guitar amp or P.A. system around.
Signals from passive pickups are weak resulting in a very quiet output and a squashed tone.
Most acoustic amps easily counter this disadvantage or P.A. systems, but to receive a strong enough tone in some cases, you will require to get a D.I. box.
Active pickups cannot function without batteries so make sure you always have a spare battery.
Pickups That Require Guitar Modifications
Pickups may require the modification of your guitar for installation. Your willingness to modify your guitar will determine which type of pickup you select. If you own a guitar with sentimental value, you might not want to adjust it.
Most soundboard transducers require modification as do piezo pickups due to their design.
Modification is not required for soundhole pickups, a notable example being L.R. Baggs. However, you are allowed to do both by most pickups.
Types of Acoustic Guitar Pickups
Explained below are the main acoustic guitar pickup types.
Undersaddle Pickups
This common pickup type consists of a bridge and underneath it six piezoelectric crystals in a small strip.
The individual strings are picked up from underneath the bridge. Their output tends to be very bright.
The guitar will require minimal modification and the piezo pickups are reliable and inexpensive. The output is very low and thin sounding due to their passive design. 
Undersaddle pickups replicate the sound of the strings alone. This property makes them ideal for bands or larger ensembles where the acoustic sound needs to cut through without feedback issues. 
It also makes the sound of the acoustic guitar to lack in complexity as is normal in natural acoustic guitars.
The low output provided by under saddle pickups may necessitate the mounting of a battery and preamp inside the guitar's body or installing a matching preamp in the guitar.
Recommended models: Fishman Matrix Infinity Acoustic Guitar Narrow Under Saddle Pickup and LR Baggs Element Active System Undersaddle Acoustic Pickup
Electro-magnetic Pick-ups
Similar to the way electric guitar pickups work, these pickups capture the strings of the guitar using electromagnetic energy.
The vibrations of the bridge do not have to be captured as these pickups sit directly underneath the strings.
The sound produced is therefore similar to the electric guitar sound. The installation will not require the drilling of any holes as the pickups are mounted in the soundhole of the guitar.
They are not permanent so that they can be removed or easily changed at any time. The sound is balanced and very clear, but it may sound a little sterile.
This is compensated for in various ways by high-end soundhole pickups.  Magnetic pickups give exceptional clarity to natural harmonics.
The pickup's pole pieces can be adjusted resulting in an even capturing of each string. The feedback issues are minimal, and high volume situations can still use these pickups.
The character of the guitar as acoustic can be masked when using magnetic pickups as they have a more artificial or "electric" sound.
A thinner tone is attributable to the fact that magnetic pickups only amplify the strings with the vibrations of the guitar top not being captured.
The magnetic pickup is easy to install with an exceptional string response.
It is suitable for players who like to try different sounds without damaging their guitar and for owners of guitars that are fragile or too valuable such as vintage guitars.
Acoustic guitar players in loud rock bands find these pickups popular in their circles.
Recommended models: DiMarzio Acoustic Pickup The Black Angel, and Fishman Rare Earth Humbucking Pickup 2012.
Transducer/Contact
The most natural sounding pickup has to be the contact or transducer pickup.
Most of the acoustic tone is captured as the pickup converts into a signal the vibrations of the guitar top.
However, the feedback issues they are prone to can make it challenging for a band playing at larger venues. They work by placing sensors on top of the guitar or mounting sensors underneath the bridge.
The sound is warm and very rich that is the most authentic and natural of all the pickup designs. If not EQ'd properly, the sound could be very bass heavy in larger ensemble settings.
If you aim to achieve a "mic-d" guitar sound for a small ensemble or solo act, then this is the best way to achieve it without using an actual microphone.
The pickup is ideal for playing while incorporating percussive techniques.
Recommended Models: K&K Sound Pure Mini Acoustic Guitar Pickup
In-Guitar Microphone/Blended Pickup
The pickup system has a miniature; thigh-quality microphone mounted in your guitar's body that combines with pickups of different types for a blended pickup system.
Its approach is that of a "best of both worlds".
A single output from blended systems can be achieved by each sound source installed having two separate outputs or using a ¼ inch TRS (Tip-ring-sleeve) cable.
They are designed to give the signal a more natural guitar resonance and the creation of a system that is full range when blended with the pickup source.
This makes blending different sounds possible.
The mic can be dialed in more at lower volumes giving out a more natural tone.
The pickup can be dialed in more while playing at higher volumes to reduce any feedback issues. This means that unwanted feedback can be resolved by eliminating one source.
A blended system is generally more expensive than other pickups while also requiring guitar alterations and additions such as an additional output jack or special cables.
Better sound quality and more flexibility is this system's advantage as it captures a more natural and full sound.
Anyone using several sources can capture their guitar's full range using a blended system.
Recommended Models: LR Baggs Anthem Acoustic Guitar Pickup and K&K Sound Trinity Mini Pro Guitar Pickup System
Our Acoustic Guitar Pickup Reviews
Fishman

Matrix Infinity Pickup & Preamp System – Narrow Format (#1 top value for the money pick)
The preamp system and Matrix Infinity pickup are part of the Matrix series which offers dynamic string response, easy installation, and a transparent tone.
The active, endpin-mounted preamp is completely redesigned.
A player can use the tone and rotary controls that are soundhole-mounted and easily accessible for simple adjustments to sound. 
Mids can be cut using the special tone control while boosting bass and treble. It features a LED low battery indicator integrated with a 9-volt battery requirement as well as the Acoustic Matrix.
The battery is not included when you buy the Fishman Matrix Infinity pickup.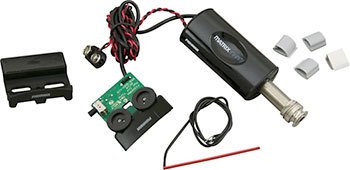 The sheer number of pickup options in the market can make selecting a suitable pickup for your unique style challenging especially more so for acoustic guitarists.
The search may be long but with the information above you should be on your way towards better guitar pickups. You can also listen to audio samples or trust your ears.
Fishman

Rare Earth

Humbucking

Magnetic

Soundhole

Pickup
Increased musicality, exceptional accuracy, and more natural acoustic tones are amongst the offerings by this cutting-edge neodymium magnet equipped pickup.
The Rare Earth Humbucking pickup offers a smoother treble response from being fine-tuned and carefully re-voiced placing it above its category-defining predecessors regarding performance.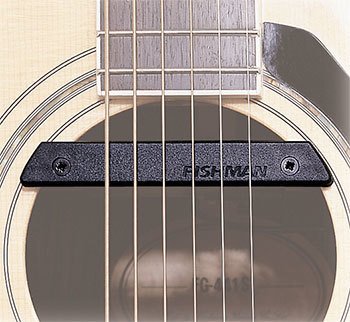 The battery required is a 3-Volt lithium battery or two 1.5-Volt silver oxide battery. The estimated battery life is approximately 240 hours.
K&K Pure Mini Acoustic Guitar Pickup
With no onboard electronics and no battery, this transducer-only system is pure pickups.
The Pure Mini offers a rich and full sound with output sufficient enough to drive most PA systems and amps without requiring a preamp.
It has no sound percussion nor harsh as they are not under pressure.
Under-saddle pickups face a common problem in the reproduction of strings; the Pure System has a nicely balanced reproduction of all strings.
The Pure System has a feedback resistance, due to its location under the bridge, comparable to under-saddle transducers.
LR

Baggs

Anthem Pick-Up
Although it is expensive, you get your money's worth as this system has a piezo element and an inbuilt microphone which can both be balanced for studio-quality sound.
The process of finding the best placements involves a lot of trial and error and installation requires a professional.

Luvay

Acoustic Guitar Pickup
With a nice balance of sound, clarity, and high fidelity, this pickup offers you acoustic-electric sound from your acoustic guitar without expensive modifications.
The software and amplification are easily manageable regarding feedback being better than most entry-level electric guitar pickups.
It is made from real solid Beech Wood featuring a passive soundhole pickup, and clip-on to guitar sound hole.
The Luvay system has easy installation involving no batteries and no making of holes.
How to Install a Sound Hole Pickup In Your Acoustic Guitar
Once you buy a new pickup for your guitar, it's time to get it installed.
If you need a little help with that, then check out the video below for some tips.