A lot of what makes the perfect ukulele for you is down to personal preference.
For example, do you like fancy designs or rustic wood?
Do you prefer a mellow sound or a brighter tone?
In this list, we'll look at numerous brands for every specialty.
Some are better for beginners, while others are handcrafted pieces of art that collectors and advanced players will enjoy.
Overall, the most important things for a ukulele's sound are intonation, tone, and resonance.
First, we'll look at brands that achieve that in an affordable range.
Towards the end, we'll advance to high-end handcrafted brands to make you feel like Israel Kamakawiwo'ole.
Those specialty brands include the '4 K's', or four of the best ukulele brands made in sunny Hawaii.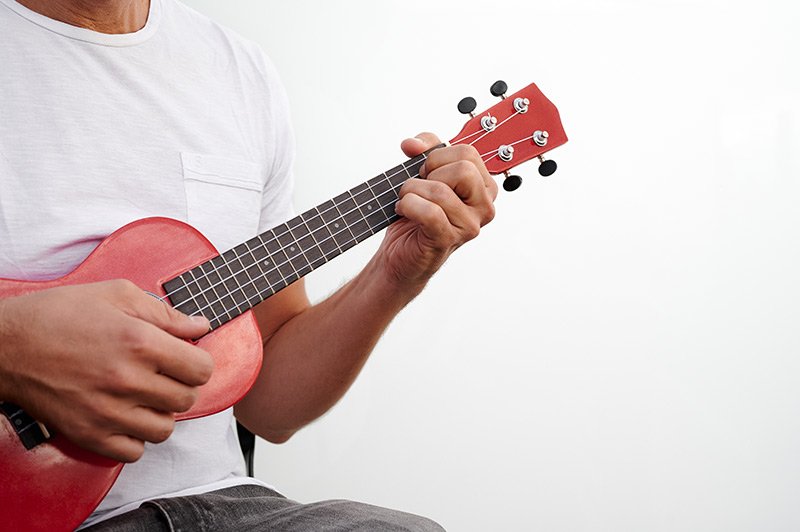 1. Kala
Kala offers excellent quality for affordable price ranges.
You can pick between budget models under $100 or go into the thousands for more specific builds.
One unique line from Kala promotes their 'U-bass' instruments.
They're essentially bass guitars contained within ukulele bodies, so you can hook it up to the amp for ultra-portable, heavy-bass music.
Kala has earned a reputation for being reliable and consistent in quality.
You can choose from a wide array of sizes, from soprano to baritone.
If you're learning the ukulele now, Kala instruments are a worthwhile investment.
Even though they have higher-end options, some people think you're better off going for higher range brands at that point.
Regardless, Kala makes itself more accessible than average across stores.
Pros
Great range and quality at an affordable price.
Original bass guitar and ukulele hybrid.
Cons
Upper-range ukes may not be as good as other specialty brands.
2. Donner
Donner is comparable to the Lohanu brand.
Both offer sets under $100, with accessories and cases that beginners will like.
Donner just comes with more colorful options to choose from.
You can find kid-friendly ukes in pink, blue, red, and purple.
People noticed Donner ukes have a bright sound that's reasonably good for the price.
Beginners will enjoy this as a way to practice the instrument without breaking the budget.
You should know that some of the ukuleles use fluorocarbon (plastic) strings instead of popular tools like Aquila Nygluts.
Fluorocarbon feels comfortable to the fingers but might not get warm tones like a Nyglut.
Pros
Affordable sets.
Colors kids will love.
Cons
Won't carry range of fancier ukuleles.
3. Mahalo
Mahalo's base is in Japan.
It's one of the best-selling ukulele brands worldwide because of how affordable and charming their designs are.
Some of Mahalo uke's designs have aliens and happy faces on their face.
And you don't have to spend hundreds to afford them, either.
Their cheapest models are available for around under $50.
The brand is trendy among children who don't need to play anything serious.
It works as either a practice tool or a toy depending on who you get it for.
Don't expect very crisp, nuanced sounds on it like other brands.
But do look at this if you want to share your hobby without breaking the bank.
Pros
Plenty of fun designs.
Highly affordable.
Cons
May need to tune strings often.
4. Cordoba
Cordoba uses a traditional Spanish approach to building ukuleles.
So, you'll notice a Spanish heel and fan bracing to add strength to their ukes.
Overall, Cordoba ukuleles have a wide range of sounds.
You can find rich to crisp options across its bodies.
The brand also has solid mahogany bodies that can last for years and still look like new.
If you don't want mahogany, take a look at their spruce options.
Plus, they're available at a mid-range of prices in the hundreds.
One downside to this brand is that some people complain about the inconsistent quality.
Perhaps that has to do with the fact that all of them are handmade.
We suggest you test it in a store before purchasing. Still, most of them will give you fine wood and good-quality build.
Pros
Mid-range, fine quality ukuleles.
Unique Spanish build style.
Cons
5. Luna
What makes the Luna brand unique is its designs.
You can find tons of gorgeous patterns on their site, and not just by wood type.
Many of the ukes have henna-like patterns etched into their faces.
For example, one has Starry Night by Van Gogh adorning the front of it.
Plus, Luna has a few interesting shapes, like a banjo-ukulele hybrid on their site.
If you want another uke form, check out their pineapple-shaped options.
Keep in mind that Luna might be better for a casual uke player.
They're gorgeous, but the sound isn't very loud. Still, the quality can fit the price.
Luna ukuleles are mostly under $500 and make themselves work for a creative collector.
Pros
Stunning designs.
Variety of choices.
Cons
6. Lohanu
Lohanu is a brand based out of Canada that's good for the beginner player.
Almost all of their ukulele models come with accessories fit for gifting to others.
They include fingerpicks, extra strings, clip-on tuners, and a carrying bag.
They won't be hard bags that protect it for travel- But they will get the job done for keeping it knick-free in your home.
After all, their ukuleles are available at a lower price point. They're frequently under $100.
One caveat is that you don't have as many ukes to choose from compared to other brands.
But what they lack in variety, they make up for in quality. The instrument's sounds range from mellow to harp-like tones.
Plus, you get a lifetime warranty with every purchase if it ever gets a hit.
Pros
Highly affordable.
Beginner-friendly sets with accessories.
Cons
Limited range of ukuleles.
7. Oscar Schmidt
Oscar Schmidt specializes in not just ukuleles.
They also sell the autoharp, mandolin, and banjo on their site.
When you look through their ukuleles, you might enjoy how many woods you have to choose from.
Some of the materials they use are koa, spruce, spalted mango, and maple.
If you like eco-themed designs, you can find a few options here.
Some ukuleles come adorned with palm trees or birds etched on the front of them.
As for sound, these models tend to have a heavier build than traditional ukes.
That means they sound 'throatier' or deeper.
Of course, that depends on what model you get because some can sound sweet.
But it's something to keep in mind depending on your favorite uke sound.
Pros
Loud ukuleles are good for playing outside.
Affordable mid-range instruments.
Cons
Some ukuleles are overbuilt.
8. Martin
Martin began in 1833, meaning that you can find gorgeous vintage models from this brand.
It's been around since ukuleles even originated.
Many people collect the old models, but their contemporary products still live up to the quality.
Martin has gorgeous woods and sounds that put it in the thousands range.
Even the cheapest models have solid koa bodies.
Koa makes the sound brighter and mellower than more affordable models, offering something close to the traditional ukulele sound.
You'll especially notice a difference comparing it to laminated wood models.
Their ukes have clear sounds and good sustain, with good attention to detail.
If you have a dedicated uke player in your life, this is a good brand to consider.
Pros
High-Quality artistry.
Vintage and collection-worthy models.
Cons
9. Kamaka
Remember when we mentioned the 4 Ks? This brand is one of them.
Kamaka started in 1916 under brand owner Samuel Kaialiilii Kamaka.
He was the inventor of the pineapple-shaped ukulele.
It gets rid of the 'bell' shape by removing the curves.
The result is a resonant, wider, warmer sound.
After he invented it, other brands began to follow suit.
Today, Kamaka is a small company of employees who make each instrument by hand.
They make them with extremely durable craftsmanship.
If you inherited a damaged Kamaka uke from your grandfather, you could bring it to their store, and they'll repair it like new.
You can order custom-made ukes at Kamaka, which is nice.
They primarily craft everything out of old acacia koa, which is native to Hawaii.
Pros
Custom ukuleles available
Vintage Kamakas available.
Cons
May be difficult to find in stores or dealerships.
10. Kanile'a
The second shop of the 4 Ks is another family-owned brand.
Except this family is from Madeira, Portugal, where the ukulele originated.
Kanile'a sets itself apart by milling its wood for its ukuleles.
They use native koa trees and dry them in their shop so that you can trust good labor practices.
If you're a tree hugger, you'll appreciate that this brand gives back.
For every ukulele you purchase from them, they'll plant a native Hawaiian tree.
It's a smart way to keep providing good instruments without hurting the ecosystem.
Kanile'a ukuleles feel solid in your hands, with great intonation and resonance.
Their tenors are especially popular and can have hyper-glossy finishes that catch the eye.
Want to get a custom uke?
Use their website to create a preview of what you want your uke to look like before buying.
Pros
Focused on reforestation efforts.
Great intonation and silky sounds
Cons
Ukes use bridge pins instead of tie-block, which may take a learning curve to adjust.
11. Ko'olau
Out of this list, Ko'olau has some of the most interesting ukulele designs.
You can get baritone electrics and cat's eye f-hole shapes on top of bell and pineapple ukes.
Don't want those? Ask them about customizing a ukulele for you.
They have a wider range of woods than usual.
Mahogany and koa might be the most popular across brands, but you can get pieces with mango, rosewood, cedar, and ebony here.
The Pono ukulele line also offers quality at a lower price range.
While they don't manufacture that line in Hawaii, Pono still has a reputation for being comfortable and well-rounded.
Pros
Wide range of woods to choose from.
Offers both high-end and affordable lines.
Cons
Some Pono ukes may be low volume.
12. KoAloha
KoAloha ukuleles are easy to recognize by two main features: a crown-shaped headstock and a musubi soundhole.
The wood is gorgeous, with attention to detail and sound that lands it in the thousand dollar range.
These ukes offer a rustic, crisp, and bubbly tonal range.
They have options in the hundreds for beginners, but their most specialized ones sound nuanced for experienced musicians.
One of the most noteworthy things is how loud KoAhola ukes can be.
Some people find them as loud as even acoustic guitars.
Ukuleles are small, so it's hard for smaller brands to build them in a way that makes them good for public performances.
If you plan on playing music publicly, KoAloha can carry both the range and volume perfect for you.
Pros
Loud ukuleles perfect for concerts.
Signature crown and musubi design.
Cons
Some people find little design choices like a tall nut unattractive.
Honorable Mentions
These were just a few of the best ukulele brands out there.
In case you can't find one in the markets near you, we want to include a few extra options.
For example, Lanikai is a brand that carries six and eight-string ukuleles suitable for rhythm playing.
You might know Fender for its electric guitars, but it offers good ukes, too.
They remade ukes in iconic electric designs like the Fullerton for a quirky, eye-catching instrument.
Magic Fluke gets props for its Fluke and Flea-style ukuleles.
They have triangular and rectangular-shaped bodies made of both wood and thermoplastic.
That makes them more durable while still carrying a resonant sound.
Find Your Perfect Ukulele
Whatever choice you make, try to avoid purely plastic ukuleles, which you'll typically find in non-specialty stores like Walmart or Target.
The key is to find a ukulele from a brand with a history or background in music.
As a general rule, a bigger body will mean a bigger tone.
Smaller-bodied ukes like tenors will sound more treble-y.
By contrast, wider bodies will have more bass.
In any case, you want to choose something that has the volume, price, comfort, and sound for your taste.
If you can, visit a dealership and test drive a uke before you buy it.
Then, you'll be on your way to Hawaiian melodies and good practice.