If you're new to guitars, then you're probably coming into this already knowing a few guitar brands.
And the Epiphone brand is one that most people have heard of, even people who don't play an instrument.
But just because a brand is well known doesn't mean that it's a good brand.
If you're considering buying an Epiphone guitar, then let us help you make that decision by answering if their instruments are any good.
Need some gear recommendations? Our favorite Epiphone acoustic guitars are:
About Epiphone
The reason that this brand is so well known is that it got its start all the way back in 1873 in what is now Izmir, Turkey.
Though the company's roots are Turkish, it has been an American manufacturer of musical instruments since 1903 when Greek founder Anastasios Stathopoulos moved to the USA.
In the beginning, it was only flutes and lutes that were made. Banjos were added in 1924, and guitars in 1928.
In 1957, the brand was purchased by rival Gibson. Today, it is based out of Nashville, Tennessee.
How's The Quality?
If you ask any guitar player worth their salt how they feel about Epiphone guitars, then you'll probably get some mixed reviews.
That's because they make some great guitars and some that are not so great sounding.
And every so often they have a guitar that is so awesome that it kills the sales of the Gibson branded models, and the parent company isn't crazy about that.
Case in point, the solid body Epiphone Del Rey model was modeled after a Gibson Les Paul double cut. Workmanship and manufacturing standards were so high that Gibson killed the model.
Like most guitars, you get what you pay for with the Epiphone brands.
The cheaper models are not that good and the more expensive models have a good sound to them.
One thing that might help you make a decision is knowing the Epiphone guitars are made in factories in a few different countries. T
hat's why the discrepancy among the various models.
Currently, Epiphone guitars are made in factories in Michigan, Indonesia, Japan, and China.
For the best quality, we suggest looking for an Epiphone acoustic guitar in the $350 – $500 price range. We've got some recommendations for you below.
Famous Guitar Players Who Use Epiphone
Over the years that have been some heavy hitters choosing to play an Epiphone for the the music.
In 1962, a twelve-string model called the Bard was released, and Roy Orbison composed "Oh, Pretty Woman" and "Only The Lonely" on one of those models.
The Beatles famously played using Epiphone guitars in the 1960s.
Keith Richards of The Rolling Stones used a Hummingbird guitar for rhythm on early Stones hits like "Satisfaction," "Play With Fire," and "Under My Thumb."
Signature guitar models released with musicians in the 1990s and 2000s included:
the John Lee Hooker Sheratons
the Noel Gallagher Supernovas
the John Lennon 1965 and Revolution Casinos
the re-issue of the Paul McCartney 1964 USA Texan
As you can see, some famous musicians find the quality of the Epiphone brand to be good. It just depends on which model you buy for your playing.
Best Epiphone Acoustic Guitars For The Money ($300-$500)
Based on our experience and reviews from other guitar players, we recommend that you intend to at least $300 on your Epiphone acoustic guitar.
You can find some great options in that $300 – $500 price range, so if your budget is in the under $500 category you'll find a great instrument.
But, if you can spend a little more, up to $700, then you can get an even better guitar for the money.
1. Epiphone Hummingbird PRO Acoustic-Electric Guitar (cheap pick)
Right now we think that this is the best option for both beginners and players who are on a budget and need something cheap but high quality.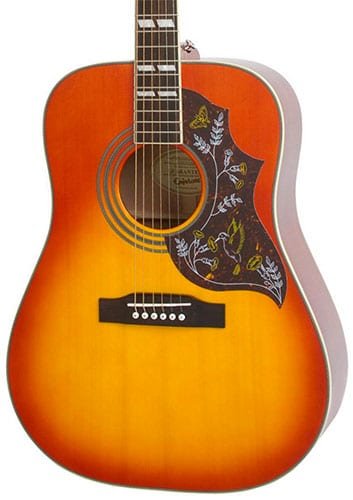 As you can see, this is a great looking guitar and probably your best choice for an under $400 – $500 acoustic-electric model from Epiphone.
It's got a solid spruce top, which means the more you play, the better it sounds!
Pros:
SlimTaper neck makes it easy to play for small hands
Has a good feel
You get a consistent sound from it
Really shines when plugged into an amp
Frets are smooth
Cons:
High action
Lackluster, flat sound compared to higher end Epis
Takeaway: Not the best, but it's the best cheap Epiphone acoustic guitar for beginners and the under $500 budget.
2. Epiphone EJ-200SCE Acoustic-Electric Guitar (mid-range budget pick)
If you have a little more money to spend, then this instrument is a great choice for a good combination of value and quality. And it's one of the best Epiphone acoustic electric guitar options in the under $500 – $600 price range.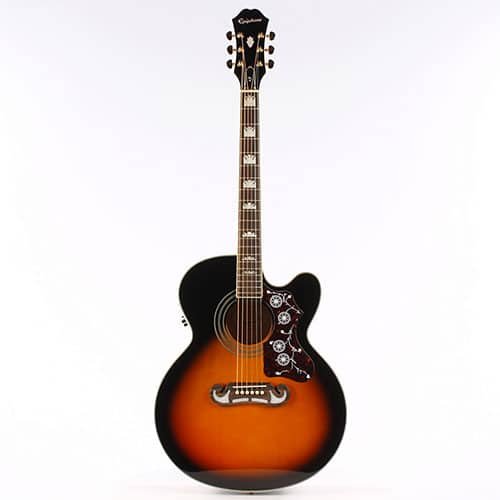 This large body guitar is Epiphone's version of the Gibson classic J-200 and it sounds pretty good for a fraction of the cost of the Gibson.
It's got a nice sound to it. The tone from the EJ-200SCE's solid spruce top is enhanced by the classic rosewood "mustache" bridge and synthetic bone saddle.
Pros:
SlimTaper neck makes it easy to play for small hands
Has a good feel and good action
You get a great, consistent sound from it
Really shines when plugged into an amp
Cons:
Big body not good for smaller people
Tuners not great
Takeaway: Amazing sound for the money – definitely the best value for the money if you don't want to spend more than $500.
3. Epiphone Masterbilt DR-500MCE Acoustic-Electric Guitar (top pick under $1000)
If you have just a bit more wiggle room in your budget and can spend $700 – $1,000 on your new gear, then you will not be disappointed by this guitar. We think it's hands down best sounding Epiphone acoustic guitar under $1,000.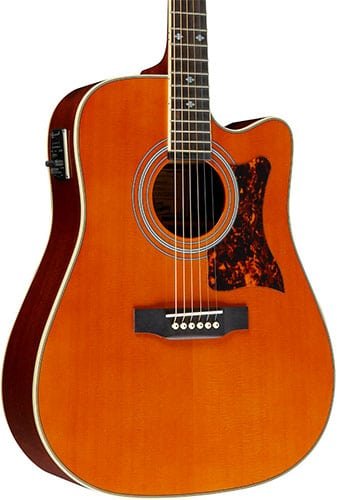 Like the other acoustic guitars in this price range, it's actually an electro acoustic guitar and it sounds great whether plugged in or not.
The electric acoustic from Epiphone combines traditional construction methods and features with premium all-solid tonewoods to bring you a new-vintage electric guitar with deep, rich lows, shimmering highs, and just the right amount of mids.
Pros:
SlimTaper neck makes it easy to play for small hands
Has a good feel
Solid woods
Great depth and tone
Really shines when plugged into an amp
Cons:
Short tuner posts
Sharp saddle
Takeaway: Amazing sound and the best acoustic electric Epiphone guitar below $1,000.
Final Thoughts
While Epiphone acoustic guitar quality can be hit or miss, if you stick to a decent budget then you can find some great sounding instruments.
Whether you're looking to jam with your bandmates or just sing around the campfire, the Epiphone acoustic electrics we've profiled above are all good choices.
And the Epiphone EJ-200SCE Acoustic-Electric Guitar gets our pick at the top value for the money option.
top image: Martin, Flickr, CC 2.0