Tell me if this sounds familiar – you're trying to sleep and all you can hear is the traffic outside or the neighbors slamming their door or talking loudly in the hallway. Or, you just want to watch a movie or record some music without having to hear outside noise in your room.
I've lived in a lot of apartments and townhouses in my adult life, and I can tell you that doors are one of the worst places for noise coming into your home. And it's always one of my first DIY soundproofing projects when I move into a new place.
If you find yourself dealing with this problem, then I've got some tips for you based on my 20+ years of having to soundproof doors in apartments, other homes, and even in hotel rooms. Whether you're a renter or a home owner, I'm certain to have a method that will work for you.
Why Doors Let In So Much Noise (And Why Soundproofing Is A Challenge)
When you move into a new place, you probably expect to be dealing with noise from the neighbors who are above you and beside you. That's because we all expect the shared walls to be the biggest soundproofing problem.
But that's not always the case. In fact, doors are probably the most commonly overlooked source of noise coming into a home.
It can be a real problem for people with home recording studios where you can end up with an echo problem in the room.
The reality is that builders can buy and install acoustically rated sound doors, but they are very expensive. As a result, you end up living in a place with a cheaper, thinner door that lets in all sorts of noise.
In fact, as a renter you're probably going to have either a hollow door or one of those doors with the honeycomb MDF/cardboard core. A lot of interior doors are the hollow ones – and hollow doors are basically full of air, which is a great sound conductor.
If you discover that you have one of these thin, noisy doors, then it's time to start checking out your soundproofing options.
Unfortunately, this project comes with some challenges.
The gaps along the edge of the door (aka the door frame) are effectively a sound path.
The door itself is likely thin and noise easily penetrates it, thus ending up in your home.
The gap at the bottom of the door is responsible for the majority of the noise leak, most of the time.
And if you're not a homeowner, then it's not as simple as replacing the door with one better designed for blocking out sound.
7 Ways To Soundproof A Door (On A Budget)
Having lived in some many places with terrible soundproofing, I have experience dealing with most poor doorway soundproofing situations.
The tips below can help you:
soundproof an apartment door (the front door)
soundproof a door between two rooms
soundproof a double door
soundproof a dorm door (my first experience with a door that needed soundproofing!)
soundproof interior doors (not just one between rooms)
Basically, pretty much any door in a home that you need to soundproof, the tips below should work for you.
1. Fill The Gaps And Cracks With Weather Stripping Tape
If you've got a door where you can literally see the outside light coming in through the cracks, like the place that I just moved into, then the first thing to do is seal up those cracks and gaps.
Here's the challenge – you still need to be able to open the door, while maximizing the noise reduction. Luckily, this is pretty easy to take care of with minimal effort and some cheap materials.
My favorite thing to use for this job is that foam weather stripping tape that you can buy at your local Walmart, Home Depot, or online at Amazon. If you're looking for how to soundproof a door cheaply, then this is where you should start.
It's super easy to install since one side is adhesive. And, if you're a renter, then you're going to love this because it's easy to remove when you move out and it doesn't leave any damage.
Weatherstripping works to seal the gap you see between your door and the door frame. As a bonus, it also keeps out the cold and heat, which is good for your heating and cooling bills.
2. Fill Gaps With Acoustic Sealant
Do you see a gap between your door frame and the wall? Yup, that's another source of noise pollution leaking into your home.
Luckily, you can easily fix this with some acoustic caulking – and it's a cheap fix that you can DIY!
There are a few different brands of acoustic caulk that you can buy, but I suggest the Green Glue brand that you can buy online at Amazon. And remember that you need a caulking gun, if you don't already have one at home.
It's important that you buy this, or another acoustic caulk brand, instead of regular caulk. This stuff is designed specifically to stop sound leaks.
3. Use A Door Sweep Or Draft Stopper
Technically this type of product is designed to keep out bugs and drafts.It works by blocking the gap at the bottom of your door.
Despite not being designed for it, you can use a door sweep to block outside noise from seeping in under the door.
You can find these in a few different designs – from vinyl strips that you apply to the door with an adhesive strip to a fabric filled piece that looks like your grandma made it for you that you just slide in front of the door.
In my experience, the door sweeps that you stick to the bottom of the door offer the most sound blocking benefits.
They're easy to apply (and remove, if you're a renter) and they are cheap to buy. My favorite is the triple layer Suptikes Door Draft Stopper Under Door Seal for Exterior/Interior Doors at Amazon.
If you prefer something that doesn't actually stick to the actual door, then I suggest the MAGZO Under Door Noise Stopper.
It's not quite as effective as the other model above, but still better than letting in all that noise. Of course, if you need to soundproof interior doors, then this is likely the better option for you since it works well with carpet.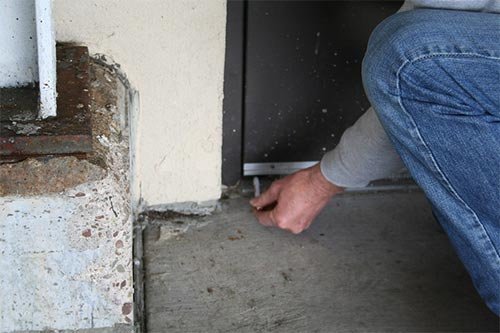 4. Hang A Heavy Quilt Over The Door
If you're on a tight budget, then you might be looking for ways to soundproof a door using items already in the house. I've been in that exact position, so I know where you're coming from with the tight budget.
Do you have any quilts or other thick blankets that you're not using? If so, you can turn that into a soundproof blanket that you hang over the door.
There are a couple of challenges with this method though:
how do you hang the quilt over the door?
what if you need to go in and out of the door?
I've dealt with both of those challenges, so let me tell you how I overcame them and maybe it will give you some ideas. And I think you'll agree that this is the best way to soundproof a door with household items.
The door that I needed to cover with the quilt was the front door of my apartment, which means I needed to use it all the time. This meant that I needed a way to hang the quilt where it could easily be removed when needed.
What I ended up doing was using a few nails to hang it over the door, but I used heavy duty binder clips that I already had to attach the quilt to the nails. So, the quilt didn't get damaged and I was able to easily move it when the door needed to be used.
The only problem with my method is that the quilt wasn't flush against the door, so it was as effective at blocking noise as it could have been. But, it didn't cost me anything extra and it got the job done.
With this method though, I did need to buy some spackle to fill in the holes in the wall left by the nails when I moved out. So, keep that in mind.
5. Block Unused Doors With Furniture
If you have a door that lets in too much noise, but that you don't actually need to use regularly, then you can do some rearranging of your furniture to block noise.
The things that work best for this are tall, thick furniture like bookcases and entertainment centers. But don't leave those shelves empty!
Fill them up with things that can absorb sound before it reaches your ears.
6. Cover With A Soundproof Blanket
If you have some money to spend, then you can get a soundproof blanket. These things are really thick and excellent for blocking and absorbing sounds.
The best type of soundproof blanket that I've found are those really thick ones that movers use with your furniture. They seem to be industrial strength when it comes to blocking sounds.
And, if you plan on moving out of your current place any time in the near future, then you'll already have a great movers blanket that you use.
My favorite option here are the Supreme Mover Moving Blankets.
But you should know that these things are heavy, weighing it at over 7 pounds per blanket. This means that you need some hooks in the wall above the doorway that can support the weight of the blanket.
These blankets are also great if you have a music practice room and you need to soundproof for drums or other instruments.
7. Hang Some Soundproof Curtains
If you have a door that you need to use regularly, and you don't like my suggestions of the quilt or movers blanket, then consider using some soundproof curtains.
You can actually hang a curtain rack above the door frame so that you can put the curtains on it and easily slide them to one side when you need to use the door.
I actually use soundproof curtains on my single-pane windows and they work really well.
The nice thing about using the curtains is that they are cheap and easy to install above the doorway. Plus, you can buy them in a variety of colors.
Right now, my favorite option are the NICETOWN 3 Pass Microfiber Noise Reducing Thermal Insulated Curtains.
Just be sure to measure the height and width of your door so that you completely cover it with the curtains and don't leave any gaps exposed.
One thing to keep in mind is that if you are installing a curtain rod above the door, then you'll need to get some spackle to fill those installation holes when it's time to move out.
Other Options
If you're not on a tight budget, then you might be looking for other solutions than covering your door with blankets or curtains.
Well, if you can spend a bit more, then there are other options for you. This includes:
Installing door gaskets instead of weather stripping
Use foam insulation to thicken your door and block out sound
Install noise reducing fiberglass panels over the doors
Put some soundproof foam panels on the door
Try repainting the door with a layer of soundproof paint
Replace your crappy door with a new soundproof solid core door
As you can see, you have even more options available to you if you have the money to spend. But we still suggest that you start out with our initial tips because one of them might do the trick.
Final Thoughts
Nothing is worse that having outside noise ruin your peace and quiet inside your own apartment, condo, or home. Fortunately, you don't have to live that with continued intrusion into your daily life.
Whether you've got no budget or an unlimited budget, there are several things that you can do to block those outside sound from reading the interior rooms of your home. And if all else fails, you can drown out the noise with a noise cancelling machine, like I do in hotel rooms.