With the world's ever-evolving technological advances, it can be a costly affair to try to keep up with the Joneses.
Many of us have systems in our homes that work perfectly fine but simply aren't up to date with the latest and greatest innovations.
This concept applies to our home audio and speaker systems. A lot of the older models connected the way most things used to: with cables and wires.
However, today's society is all about Bluetooth and wireless connections.
It seems such a waste to get rid of a perfectly good and well-working system to look better to our friends and families or feel satisfied with what we have, so why should we?
The fact is, we don't have to.
Technological advances have evolved so far as to let us convert wired speaker systems to wireless, and it's simpler than it might look.
Wireless Speaker Kits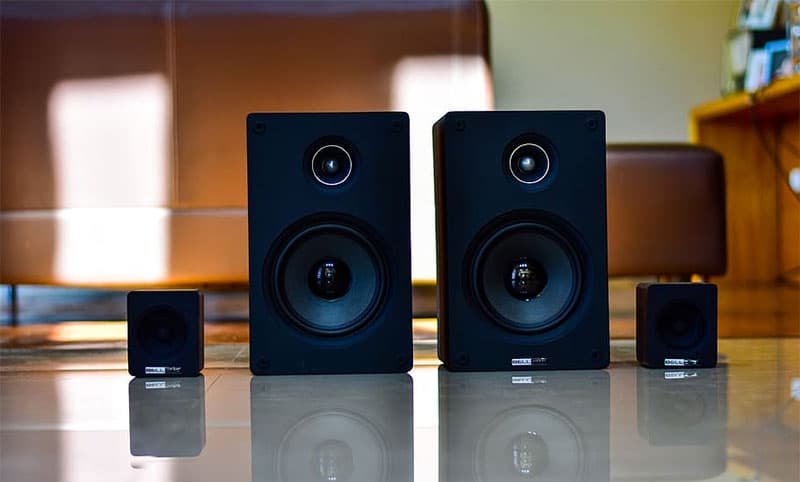 The key to success in transforming your outdated, wired speaker system into a state-of-the-art wireless audio experience is a wireless speaker kit.
The reason why wired speakers can't receive audio signals with wires is that they don't have a built-in amplifier like wireless systems do.
In a wireless speaker, you can transmit audio via Bluetooth, Wi-Fi, etc., because the built-in amplifiers can receive that transmission.
So, the way to fix a wired speaker so that it's wireless is to add a link between the wired speakers and the wireless signals.
What's in a Wireless Speaker Kit?
There are several wireless speaker kits available on the market today, so what you receive in a specific kit may differ slightly from another package.
However, it's important to note that most of the standard wireless speaker kits do not provide a power source, so you'll have to make sure your system can handle that side of things.
That being said, there are some kits that do include a power source. You just need to ensure your system is near an available outlet.
The most basic packages include a transmitter and a receiver, both of which work together to allow your wired speaker to function as a wireless one.
When both of these pieces are in place, you are able to connect to the speakers using radio signals, Wi-Fi, or Bluetooth.
Most wireless speaker kits do not contain a built-in amplifier, while others do.
However, these amplifiers tend to be pretty weak anyway, so it's best to just stick with the ones without the amp and use your own audio amplifier.
Your best bet is to use a kit that includes RCA outputs on the receiver.
It's safe to say that these are pretty commonly found on speaker systems, so you should be good to go.
Otherwise, you will need to find a kit that has a line-level adapter and can convert your speaker system.
How to Use a Wireless Speaker Kit
After choosing the wireless speaker kit to convert wired speakers to wireless, you can begin your connection.
As long as you have the RCA outputs, this process should be relatively straightforward.
Begin by connecting the audio outputs from the source to the inputs of the wireless transmitter. RCA outputs are color-coded, and some newer ones may even be labeled to make this connection super easy.
Note that some kits might provide analog audio inputs or speaker wire connections.
If you purchased a kit with an amplified receiver, now would be the time to connect your wired speakers to the receiver using the standard speaker wire.
If your kit does not have an amplified receiver, then you can connect it to your external amplifier with the audio connection cords – usually the RCA analog audio cable.
Completing this step will provide a physical connection between the speakers and the receiver.
Once all of your cords are connected as they should be, you can go ahead and plug your transmitter in a power source (likely a nearby AC power outlet) and turn both the transmitter and the audio system on.
Your wireless kit most likely uses Bluetooth to connect wireless devices, so once it's turned, you should be able to locate the name of your kit on the device you'd like to join, such as your smartphone.
Other Options
You may not have known this, but you can also connect specific smart devices to your wired speakers to achieve the same wireless capabilities as you would with a wireless speaker kit.
IF you have a Google Home or an Echo device, you can purchase a stereo mini male to dual RCA male adapter cord and plug the smart speaker into your wired speakers.
From there, you can ask your smart speaker to play a song or a playlist.
You can even stream music from your phone to the smart speaker, which will, in turn, input the audio into the speakers to which it's attached.
Like the wireless speaker kit, the smart speaker serves as a link to transmit wireless audio, turning your wired system into a wireless receiver.
Additionally, if you have a subwoofer and want to make it a part of your wireless system, you can find specific wireless conversion kits that have an input for your subwoofer on the transmitter.
Just make sure you check out the product details to see if this feature is included.
Benefits of Converting Wired Speakers to Wireless
If you're trying to weigh the pros and cons between converting your wired speakers to wireless, you might want to check out a few reasons why transforming your system is an excellent and effective option.
Update Your Technology
By converting your wired speakers to wireless, you are taking a giant leap into the world of technology.
Maybe you like how your old school speakers look but still long for that wireless connection that allows for freedom of movement and use beyond three feet of the stereo.
When you update your wired speakers, it opens you up to so many more possibilities.
You can control your music via voice command or sit on the couch and use your phone rather than leaving it plugged into the speakers.
Save Money
Switching over to an entirely new wireless system can be a huge cost burden.
A high-quality wireless audio setup can cost hundreds of dollars, even thousands, if you really go all-out.
However, a wireless speaker kit can go for as low as $50 and even cheaper in some cases.
When you're weighing the choice based on cost alone, it's a no brainer: go for the wireless speaker kit and keep what you have in place.
As long as you're happy with the system you have in place, and it's still up and running, there's no reason why you should spend tons of money and get rid of functional and quality equipment.
Minimize Wire Clutter & Setup
One of the benefits of switching your wired system to a wireless setup is minimizing your wire clutter a little bit.
While it won't be much – you still have to have your speakers plugged in and linked to each other – much of the wiring will be located at the back of the speakers and easily hidden.
Switching to a wireless kit will allow you to get rid of any wires used to connect devices to your speakers, though.
For example, you no longer need that pesky wire coming straight out of the front to plug your phone in because it will connect via Bluetooth, internet, etc.
Conclusion
Making your good old wired system into a wireless audio setup sounds like a complicated feat, but today's technology actually makes it pleasantly simple.
You don't have to be an audio geek or a tech professional to nail this one. Just find the kit that works for you and follow a few easy instructions.