Some songs are so iconic, they eclipse everything else in an artist's (or franchise's) catalog.
These songs are signature songs, the songs artists/franchise's become associated with for the rest of their careers/lifespans and for future generations.
Artists with signature songs are not to be confused with one-hit wonders who have only one successful song over the entirety of their careers.
Signature songs are simply the songs most people recognize by an artist/from a franchise, the ones even non-fans know, the ones crowds at every concert can sing along to.
In the Muppet universe, that song is "Rainbow Connection."
Rainbow Connection by Kermit THEE Frog/Jim Henson
Muppet movies and specials are well-known for their original music, most of which is very good and almost all of which is inherently hummable.
But only one Muppets tune charted in the US (though a few songs did chart in the UK) and made the American Film Institute's list of the best 100 songs from the 20th Century.
The song was "Rainbow Connection" from The Muppet Movie.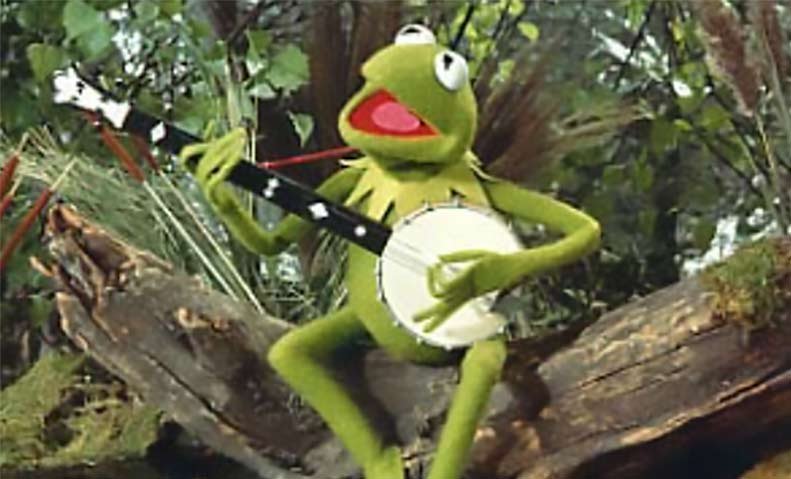 Rainbow Connection Stats
Released in 1979, "Rainbow Connection" reached #25 on Billboard's Hot 100 and #18 on the Adult Contemporary Charts. It remained on both charts for 17 weeks.
The song was also nominated for "Best Original Song" at the 1980 Academy Awards.
But this song's impact has far outlived its year of release.
Along with recognition as one of the greatest movie songs of all time, it has been covered by nearly three dozen major recording artists from Willie Nelson to Gwen Stefani, and in 2020 was added to the Library of Congress's National Recording Registry, which registers and preserves songs of cultural and historical significance.
Why was it so successful?
It's strange to think a song specifically written to give insight into a frog's journey – songwriter Paul Williams has said the song was written to connect us to Kermit as a character – could become so beloved, but "Rainbow Connection" is hardly just a song about a frog.
Lyrically universal, it's a song about wanting something more.
About longing and about hope. About becoming the us we want to be.
There are few things more relatable than that.
Rainbow Connection Songwriters
"Rainbow Connection" was written by Paul Williams and Kenneth Ascher.
Williams had previously written songs for The Muppet Show and the score of Emmet Otter's Jug-Band Christmas.
Ascher had previously collaborated with Williams on the Golden Globe Winning and Grammy-nominated score of the 1976 film A Star Is Born.
Rainbow Connection Lyrics
Why are there so many
Songs about rainbows
And what's on the other side
Rainbow's are visions
But only illusions
And rainbows have nothing to hide
So we've been told and some choose to believe it
But I know they're wrong wait and see
Someday we'll find it
The Rainbow Connection
The lovers, the dreamers and me
Who said that every wish
Would be heard and answered
When wished on the morning star
Somebody thought of that
And someone believed it
Look what it's done so far
What's so amazing that keeps us star gazing
And what do we think we might see
Someday we'll find it
That Rainbow Connection
The lovers the dreamers and me
All of us under its spell
We know that it's probably magic
Have you been half asleep
And have you heard voices
I've heard them calling my name
Is this the sweet sound
That call's the young sailors
The voice might be one and the same
I've heard it too many times to ignore it
It's something that I'm supposed to be
Someday we'll find it
The Rainbow Connection
The lovers, the dreamers and me
Rainbow Connection Versions
The first major recording artist to cover "Rainbow Connection" was Judy Collins, who recorded the song in 1980, the year after its original release.
That same year, three more artists/bands covered "Rainbow Connection" – The Carpenters, Mary O'Hara and The Brothers Cazimero.
While there are no definitive covers of Rainbow Connection except the original, none of the covers were big hits, some versions have made impact in smaller ways.
Here are a few of the most notable versions:
Kermit the Frog Rainbow Connection
A new version by the original.
Judy Collins Rainbow Connection
The original cover.
The Carpenters Rainbow Connection
While this version wasn't released until years later, it was recorded in 1978 for an earlier album and may actually pre-date the Judy Collins' version.
Willie Nelson Rainbow Connection
Charted without being released as a single.
Jason Mraz Rainbow Connection
A 2014 version Jason Mraz recorded with songwriter Paul Williams.
Fan of Paul Williams' songwriting? Us too!
Check out our article All Emmet Otter's Jug Band Christmas Songs Ranked.