Some songs are so iconic, they eclipse everything else in an artist's catalog.
These songs are signature songs, the songs artists become associated with for the rest of their careers and for future generations.
Artists with signature songs are not to be confused with one-hit wonders who have only one successful song over the entirety of their careers.
Signature songs are simply the songs most people recognize by an artist, the ones even non-fans know, the ones crowds at every concert can sing along to.
For Whitney Houston, that song is "I Will Always Love You."
I Will Always Love You by Whitney Houston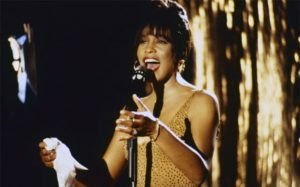 It seems strange that Whitney Houston, a consummate hitmaker of the 80s and 90s, would come to be most associated with a cover song that was already a huge hit for another artist.
(Dolly Parton's versions of "I Will Always Love You" hit twice, topping the Country Charts first in 1974 and then again in 1982).
But that's exactly what a great song recorded by a great artist does.
Like the second charting of the song by Parton (which was re-released with The Best Little Whorehouse in Texas), Houston's version of "I Will Always Love You" had the backing of a popular movie behind it.
The song was recorded by Houston for 1992's The Bodyguard, which became the second highest-grossing film of the year and, at the time of its release, the 10th highest-grossing film of all time.
The Bodyguard's soundtrack also became the top-selling movie soundtrack album of all-time (moving over 45 million units worldwide), a distinction it still holds to this day.
I Will Always Love You Stats
While Houston had multiple other huge hits – "I Wanna Dance With Somebody (Who Loves Me)" went 7x Platinum, "How Will I Know" and "I Have Nothing" both went double platinum – "I Will Always Love You" went absolutely insane.
Houston's version of "I Will Always Love You" topped the U.S. Billboard Charts on November 28, 1992 and remained there for 14 weeks.
But it hardly stayed contained.
The Houston cover also went #1 in Canada, Australia, New Zealand, all of Western Europe, and much of South America.
There is simply no other way to describe the Houston version of "I Will Always Love You" than as an absolute juggernaut.
The song's run of the charts ended with it becoming the best-selling song of 1993 and the best-selling single of all-time by a woman, eclipsed only in recent years by Rihanna's "Work" and neck-and-neck with Adele's "Rolling in the Deep."
(It remains the best-selling physical single by a woman, and the 5th best-selling physical single by anyone.)
Why was it so successful?
"I Will Always Love You" being the defining song in a hugely successful movie surely played some part in the song's success.
But it doesn't explain the sheer extent of the song's reach.
You might say "I Will Always Love You" (and The Bodyguard) came at just the right time for Houston, at the pinnacle of her career when she was transitioning from superstar recording artist to superstar recording artist AND movie star.
Right circumstances, right artist, right time.
You might say that.
When it comes down to it, though, the extraordinary success of Whitney Houston's "I Will Always Love You" was probably fueled by performance alone.
Starting with an a cappella opening as only Houston could do it, and with all of the signature vocal warbles and just-at-the-right-time power you'd expect, Houston uses every tool in her considerable vocal arsenal and turns the simple into the utterly sublime.
She never had another song quite like it and was rewarded handsomely for the risk.
I Will Always Love You Songwriters
"I Will Always Love You" was written by Dolly Parton as a tribute to her former singing partner, Porter Wagoner.
I Will Always Love You Lyrics
If I should stay
I would only be in your way
So I'll go but I know
I'll think of you every step of the way
And I will always love you
I will always love you
You
My darling, you
Mmm-mm
Bittersweet memories –
That is all I'm taking with me
So good-bye
Please don't cry:
We both know I'm not what you, you need
And I
Will always love you
I
Will always love you
You
I hope life treats you kind
And I hope you have all you've dreamed of
And I wish you joy and happiness
But above all this, I wish you love
And I
Will always love you
I will always love you
I will always love you
I will always love you
I will always love you
I, I will always love you
You
Darling, I love you
I'll always
I'll always love you