There are 93 days of true summer. Ninety-three days between the summer and autumn solstices.
Ninety-three days to bask in the sun and listen to summery songs that let us revel in the sweet heat of the season.
There is just something about summer songs, am I right?
Their energy. Their vibe.
Their ability to lodge in your brain like some random fact from junior high biology that you just can't seem to forget.
Some summer songs aren't even true summer songs.
They've just got that "summer song" feel. We dig those too.
So, before you start building your playlist for your days at the beach and backyard barbecues, check out our list of summer songs for inspiration.
Many you've probably heard of. But some we promise you haven't.
Summer Solstice Songs
Before summer can kick off in earnest, we have to let go of the things tying us to spring and our spring responsibilities.
A lot of that may just be the weather, which, depending on where you are in the world, can hold you captive for much of fall through spring.
These songs capture the essence of the end of one season and transition into the heat and abundance of summertime.
School's Out – Alice Cooper
Diving right in, has there ever been a better anti-formal education banger than this scathing ode by Alice Cooper?
We think not.
School's out, Baby.
Here Comes the Sun – The Beatles
Little darling, it's been a long, cold lonely winter…
Preach.
Holiday Road – Lindsey Buckingham
If you're of a certain era – that is, the National Lampoon's Vacation era – this song will forever be tied to summer road trips.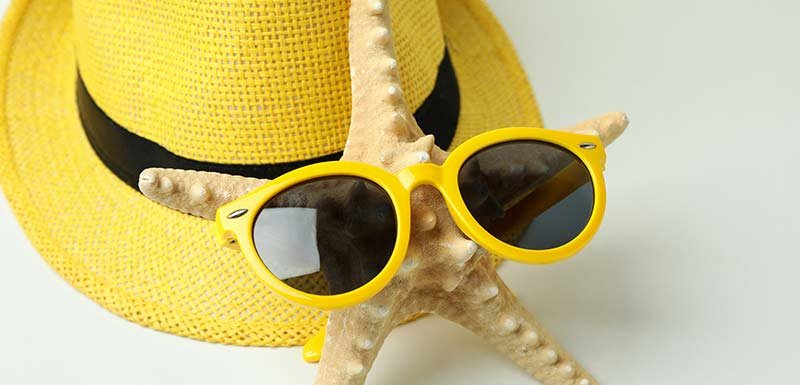 Hot Summer Songs
Round about July is when we start to get into the true heart of summer.
A combination of good times and oppressive heat.
Often, both at once.
Our mid-summer heat songs are all about sunlight and snappy beats, summer love and having a good time while you can.
Downtown – Macklemore & Ryan Lewis
A lot of Macklemore & Ryan Lewis songs are light-hearted good times.
But this one just says "summer" to us.
Wouldn't It Be Cool – Chely Wright
This isn't a summer song (there's not a single lyric that implies it is), but something about the music and lyrics gives this song a decidedly summery feel.
We're strong believers that, if Chely's record label had released this song as a single right about this time of year, it would have been a huge hit.
Dancing in the Street – Martha and The Vandellas
If this doesn't get you to want to do a little sweating in the summer heat, nothing will.
If this song sold as many copies as is rumored, it's one of the best-selling singles of all time.
Maybe it did, maybe it didn't.
But there's no dispute it's super popular on Muzak.
Wave – Ateez
Boy band.
Summer tune.
Typically a winning combination.
Or anything by Donna Summer really.
Honestly, her name is almost categorical, because a whole lot of her popular disco songs have that summer vibe.
For a truly deep dive, and a top-notch summer road trip album, track down her VH1 Presents: Live & More Encore! album and give yourself a full Summer disco break.
Blisterin' heat of summer captured in a lyric and sultry beat?
Done and done.
Summer Sunshine – The Corrs
Sometimes summer is a time of fond memories.
Others it's a time of painful reminiscences.
But, don't worry, whichever it is it'll still come with uptempo enough of a beat and enough electric guitar to slide seamlessly into the season.
Or, you know, pretty much pick an album and put it on.
The Beach Boys loved them some summer.
Ain't Nothing Wrong With That – Robert Randolph and The Family Band
Bringing some serious funk into summer, this song is a damn delight.
Again, it's pretty hard to go wrong with a Creedence album this time of year.
End of Summer Songs
Welp. Here we are.
It happens every year.
Summer must come to an end, the cold blows in, and it's just another season for the history books.
This is when many of us start waxing nostalgic about the dwindling season and trying to reintegrate ourselves back into our non-summer lives. (i.e. It's almost time to rake those leaves and shovel that snow again.)
These songs are about making the most of the last days of summer and easing into the memories left behind.
They're a little more somber, a little more nostalgic, and a little more early fall.
Or at least they capture that vibe.
Cinnamon Park – Jill Sobule / Saturday in the Park – Chicago
Jill Sobule's Cinnamon Park samples Chicago's classic Saturday In The Park.
As such, they capture a similar vibe.
What summer list would be complete without an ode to hurricane season?
One song that's a straight-up classic.
And one song that blatantly copies its vibe.
And another Buffett song that takes you to the same place.
A boy band reuniting to sing a song about summer nostalgia?
Are you kidding me with this late-summer perfection?
Last Dance – Donna Summer
Yup.
It's Summer time again.
Back to School Again – The Four Tops (from Grease 2)
Songs with Summer in the Title
To finish us off, here are some songs with "summer" in the title that don't as neatly fit into one of our above categories.
If you're looking for songs that cover the entire span of summer and summer nostalgia, here are some to try.
Summertime – Beyonce ft. P-Diddy
That Summer – Garth Brooks
All Summer Long – Kid Rock
Summer Nights (from Grease)
Summer of '69 – Bryan Adams
Summer Wind – Frank Sinatra
Beat This Summer – Brad Paisley
Summer in Siam – The Pogues
It's Summertime – The Flaming Lips
Summer Soft – Stevie Wonder
Long Hot Summer Night – Jimi Hendrix
Lies of Summer – Aimee Mann
Summer Babe – Pavement
My Summer Love – Ruby & The Romantics
Sunshine and Summertime – Faith Hill
Summer Girl – HAIM
The Boys of Summer – Don Henley
Summer Madness – Kool and The Gang
Cruel Summer – Bananarama
The Other Side of Summer – Elvis Costello
Endless Summer Nights – Richard Marx
Cool for the Summer – Demi Lovato
Summer – Calvin Harris
Suddenly Last Summer – The Motels
Hot Girl Summer – Megan Thee Stallion
That Summer Feeling –

Jonathan Richman & The Modern Lovers