Nobody builds a guitar quite like Takamine. Their unique manufacturing process, as well as their long and fascinating company history, is often more well-known than the quality of their products.
Are Takamine guitars good? If you're considering buying a Takamine, we're here to help.
Check out our complete guide to Takamine guitars, including their overall level of quality and an overview of their most famous models.
Need some gear recommendations? Our favorite Takamine acoustic guitars are:
About Takamine
When considering guitar greats, top names mentioned typically include Gibson, Fender, and Epiphone.
However, you can find another interesting option by looking East.
Takamine guitars are made in Japan. The company originated in 1962.
In 1978, they shot to worldwide fame as one of the first companies to make acoustic and electric guitars.
Unlike most manufacturers, Takamine doesn't assign model names to their guitars. Instead, each is identified by a number.
Takamine manufacturing is a fascinating blend of cutting-edge technology and old-world craftsmanship.
Talented artisans handcraft main sections of each guitar, such as joining two flat sections of spruce together.
However, they're also not afraid to embrace new methods.
For example, they use a vacuum press to apply uniform pressure on the struts while the glue dries.
The use of technology helps ensure a perfect bond. This combination of old and new is the company's signature.
How's The Quality?
Takamine guitars occupy a weird spot among guitar aficionados.
While Takamines are generally considered excellent mid-range guitars, they sometimes struggle to earn the respect afforded the big boys like Gibson or Fender.
Many Takamine guitars are considered excellent mid-range guitars, buoyed by generally low prices compared to guitars of similar quality.
However, many people mistakenly believe Takamine guitars are beginner guitars.
While they're certainly suitable for beginning players, they're also well-made enough for big-time shredders and even pros.
They're best known for two types of guitars:
Acoustic Guitars
Electro-Acoustic Guitars
In the late 1960s, Takamine made a name for themselves throughout Japan for their expertly-crafted acoustic guitars.
Their chief craftsman, Mass Hirade, specialized in classical, steel-string acoustics.
Interestingly, Hirade eventually became president of the company.
While a hit in Japan, their guitars struggled to sell in other countries.
However, in the 1970s, their PT-007S took the international market by storm.
Although not the first electro-acoustic guitar ever made, it was heads-and-shoulders above the competition, technology-wise.
Using six king-sized ceramic elements, the guitar produced a feedback-free, amplified tone while maintaining the unplugged sound.
Famous Guitar Players Who Use Takamine
Takamine's influence on electro-acoustic performance is hard to understate.
Popular musicians who use Takamine guitars include:
Bruce Springsteen
Jon Bon Jovi
Garth Brooks
Neil Simon
Nancy Wilson
Another famous musician known for his love of Takamine guitars is Dave Stewart of the Eurythmics.
He was an early fan after finding a Takamine in a Nashville guitar store, back when the company's products first hit American shores
You've almost certainly heard a Takamine in action. Don Felder used a Takamine 12-string with a DeArmond pickup to play the intro to Hotel California.
At the time, the Eagles were already multi-platinum mega-stars, so their use of a Takamine was a deliberate choice because they liked the sound quality.
What Takamine Guitar Does Garth Brooks Play?
As one of the best-selling and most popular artists in the world, Garth Brooks can play any guitar he chooses, and he prefers Takamine.
Even more interesting, he plays a guitar custom-created for him by the company.
His signature GB7C has a solid cedar top with rosewood along the back and sides.
Where Are Takamine Guitars Made?
In 1959, the company first opened its doors.
They were a small, family-run guitar manufacturer located in the town of Sakashita, located in central Japan.
Specifically, their building was located at the foot of Mount Takamine.
In 1962, they switched the company moniker to name themselves after that mountain.
Best Takamine Guitars for the Money
While you can find some excellent mid-range options for around $500, most Takamine guitars run over $1,000.
However, despite an initial high cost, a high-end Takamine guitar will last a lifetime with no diminished sound quality.
Here's a closer look at three of the best Takamine guitars:
1. Takamine GD-30CE 12-String Acoustic-Electric Guitar (Cheap Pick)
For the under $500 – $600 range, you can pick up this 12-string acoustic-electric guitar.
It combines quality sound with a stylish design.
The guitar has a 12" fingerboard plus solid-top construction and a Venetian-style cutaway. It has a rich, mahogany coloring that's subtle but still attention-grabbing.
Pros:
12-string acoustic-electric guitar
Solid construction with 12" fingerboard
Built-in toner helps maintain tone
Stylish red wine/mahogany coloring
Cons:
Fret can be fuzzy
Tuner is tight
2. Takamine EF341SC Legacy Series Acoustic-Electric Guitar (Mid-Range Budget Pick)
If your budget allows for it, consider the EF341SC, available for under $1,500 – $2,000 range.
It's capable of delivering a resonant, acoustic sound even at even high volumes.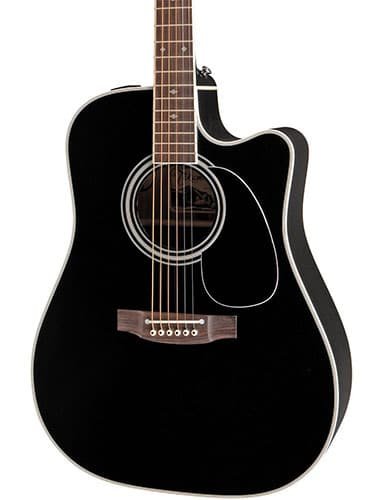 It's ideal for playing in front of medium-to-large crowds.
The guitar has a laminated maple back and sides with chrome tuners and a gloss black finish. It includes a hardshell case.
Pros:
Designed for stage play
Naturally resonant
Made from maple with a glossy black finish
Designed for loud-volume play
Cons:
3. Takamine JJ325SRC12 John Jorgenson Signature 12-String Acoustic-Electric Guitar (Top Pick Under $2,000)
Takamine's John Jorgenson Signature 12-string acoustic-electric guitar is a high-end option to consider when your budget allows for the best.
It has a solid spruce top with Bubinga on the back, sides, top, and neck.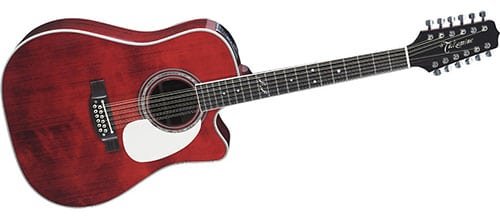 Additionally, the sound quality is excellent and authentically acoustic with a parametric EQ, chromatic tuner, and digital reverb.
It's an acoustic-electric guitar suitable for all needs, including professional needs.
Pros:
Extremely high-quality construction
Excellent sound quality
Easy on fingers
Stylish maroon coloring
Cons:
Relatively high cost compared to other Takamine guitars
Final Thoughts
Takamine guitars have a lot more to offer than many players realize.
From humble beginnings, this Japanese company has grown into an internationally-recognized leader in acoustic and electro-acoustic guitars.
When you need the intimacy of an acoustic sound, but at a volume for medium to large audiences, turn to Takamine.
While all of the options above are excellent guitars, we recommend the Takamine EF341SC as an excellent mid-range option, or the Takamine GD-30CE if you're looking for the best budget option.